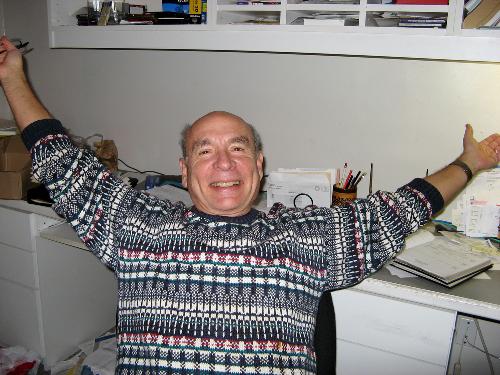 Steve Ettinger
1942-2013
About Steve (excerpt from his book)
...After taking early retirement from the World Bank, Steve joined and soon began organizing the Thursday Paddlers- currently about 175 canoeists and kayakers who are retired, unemployed, underemployed, free during the summer or simply willing to sacrifice an occasional workday to go whitewater paddling. A few even tell their employers not to expect them on Thursdays.
In keeping with broader trends, the large majority of the group are now kayakers. When asked why he too has not switched to that easier and more maneuverable craft, Steve's favorite reply is that "any fool can make it down a whitewater creek in a kayak, but it takes a special kind of fool to canoe it."
He always liked exploring new creeks, and discovered that he was onto something of wider interest when the Wall Street Journal published a page one article in 1991, about his "brown water" adventures on Rock Creek tributaries....
A note from Alf:
A couple of months before Steve died, I started working on an index for his new book that would help quickly to identify which brooks were up - and get us to the right put-in in time to enjoy the run.
I thank several paddling friends who like Steve follow the numerical relationships between watershed areas, rainfall, stream discharge amounts, and weather prediction: Gus Anderson, Lee Thonus, Ron Knipling, Ed Evangelidi, Mike Martin, Matt Anderson, Ken Dubel, and Larry Lempert. All are invited to criticize and improve the tables.
These tables are new in taking each of the references to a river or rain gauge and hyperlinking it to the source website, be it USGS, NOAA, IFLOWS, etc, so the paddler can zap immediately to read the gauge – which is put right next to Steve's minimum in CC&K for the particular brook. This should speed you in selecting a stream.
Paddlers during this winter's "field trials" report that the "Stream-finder" is useful - particularly when an overnight rainfall throws all your plans into a cocked hat and you nonetheless must come up with an 8 AM plan (and back-up) with many possibilities to choose from.
The Stream-Finder document

has been expanded beyond the confines of Steve's book - west into the Eastern Panhandle of West Virginia – to include the South Branch of the Potomac and the Cheat and many of its tributaries, - south to include the Appomattox, - northeast to the Brandywine, and - northwest to include Stoneycreek and the Yough. The Weather Appendix mentioned in the "Stream-Finder" is now (June 2014) published.
We have sold over 450 copies of CC&K by individual effort and on Amazon, and at Potomac Paddlesports, Appomattox River Co., Valley Mill, Blue Mtn Outfitters, and River and Trails and are working to sell it elsewhere.
Please look over the Stream-Finder and let me know where it might be improved.
Thanks and SYOTR,
Alf